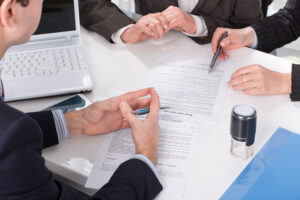 If you are in the process of starting up a business or need some legal advice about your already existing business, then a North Salem, NY business lawyer is especially helpful. The Sweeney Legal, LLC firm has the necessary skills, experience, and knowledge to assist you with all of your business-related legal issues. Reach out to us today for more information and to get the advice and helping hand that you need. 
Advisement
Our firm has given legal advisement to numerous clients about their businesses. Running a business is a lot of work with many moving parts. From contracts and loans to employees and Human Resources we understand what it takes to run a successful business. There are many other unforeseen issues that may arise as well in the future which is why it is advised to have a lawyer sit down and ensure that nothing is overlooked when it comes to contracts, crucial documents, and other important things. Consider reaching out to us today to get the advisement that you and your business need to ensure that things remain running smoothly. 
A Helping Hand With Contracts
Contracts can be an especially tricky thing to conduct. There are many confusing terms and words and the jargon itself can be difficult for many people to fully comprehend. A business lawyer in North Salem, NY from our firm can take the time to look over a contract that has been proposed to you. We also can assist in drafting up a contract if you are in need of that assistance. Having a helping hand from a professional is a useful and beneficial way of ensuring a contract is fair for all parties involved. 
Assistance to Keep Your Business From a Lawsuit
What many people don't understand about businesses is that they can take many shapes and forms. Some businesses remain small and local, while others may grow large and global at a fast pace. When a business gets too large too quickly it can also lead to many unforeseen issues. That's when some businesses start to get into legal trouble due to a variety of different issues with finances and personnel. Sweeney Legal, LLC is here to help if you need assistance with any type of business. If you think that your business is in legal trouble or could face a legal battle down the road, consider reaching out to us by speaking with a business lawyer in North Salem, NY from our firm. 
Legal Assistance is Available
It's important to understand that you and your business don't have to be alone during tough times of hardship. Our firm has helped numerous clients overcome legal troubles and has ensured that their operations are back to normal as soon as possible. Don't hesitate to contact us at Sweeney Legal, LLC for assistance. Waiting too long could see new issues arise and potentially lead to even bigger problems that may take longer to fix.