What Exactly is Estate Planning?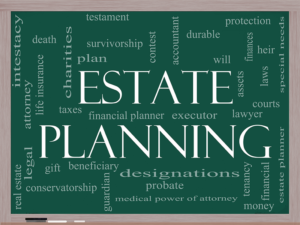 An estate planning attorney Ridgefield, CT community members choose for assistance can be invaluable for their knowledge. Those who wish to develop an estate plan often choose Sweeney Legal to help them make the right decisions. However, they may not have a full understanding of what an estate plan involves. We hope the information we provide here helps you understand what an estate plan encompasses. A Ridgefield, CT estate planning attorney from our firm can review your options in greater detail.
The main goals of an estate plan are to ensure that your final instructions are legally documented so that your family and the courts will follow your last wishes. John Sweeney is an estate planning attorney Ridgefield, CT locals recommend to others with estate planning needs. He can look at various areas of your life (finances, personal property, individual goals) and provide the guidance you need.
Creating an Estate Plan
An estate plan is intended to protect you and your family's future. Depending on variables such as your age, your future financial goals and other circumstances, your estate planning attorney in Ridgefield, CT from Sweeney Legal can provide you with guidance. Some options may be more appropriate for you than others. They are listed as follows:
Last Will and Testament

Revocable Living Trust

Medicaid Asset Protection Trust

Health Care Proxy

Power of Attorney

Estate Tax Planning

Medicaid Planning
Keeping Your Estate Plan Relevant
Once you finalize your estate plan, understand that it should be modified over time as needed. There are many life changes that can trigger the need for changes to your estate plan. The changes may include:
A change in your family that is of significance such as a birth or death.

A divorce.

Your executor, agent, power of attorney, and/or trustee dies or you wish to replace them.

There is a change in your employment circumstances.

There is a change in your financial situation.

You receive a large inheritance.
It is not uncommon for people to feel distressed over the thought of writing a will and dealing with estate planning issues. It can be an emotional process because an estate plan comes into effect if you become unable to make decisions or have passed away. As an estate planning attorney Ridgefield, CT families trust, John Sweeney of Sweeney Legal can ease the difficulties by taking care of as many details as possible and helping put your mind at ease.
How Estate Litigation Can Arise
After a loved one's death, the immediate family, close relatives and friends can go through a period of immense grief. During this very delicate time, the loved one's assets are to be distributed as written in his or her will. Despite how simple this may sound, it does not always go as smoothly as you'd think. The assets a loved one may leave behind can include money, property, valuables and treasures. If a beneficiary or other relative is disgruntled regarding how the will is being handled, they may contest the will. This means he or her believes the will is somehow incorrect or invalid. When this happens, a process called estate litigation can follow.
A Ridgefield, CT estate planning attorney at Sweeney Legal can offer guidance if you are anticipating having to attend estate litigation over your loved one's assets. In this article below, we have covered more information about how estate litigation occurs and common reasons why a will may be contested.
How Estate Litigation Happens
Even if a loved one did his or her best to write a clear, precise and fair will, litigation may happen anyway. Sometimes litigation is unavoidable, especially is a family member feels their share of the assets is unfair. During a period of grief, emotions can run high and it may seem as though beneficiaries simply want to fuss no matter how things are actually settled. Estate litigation is very common and can be handled fairly quickly, assuming that all parties involved can act calmly and with a level head.
2 Common Reasons for Estate Litigation
Estate litigation may feel necessary to one, or many family members. The motivations behind wanting a trust to be evaluated can run deep, especially if a family member thought they were valued by the deceased loved one but came to find out they were not listed in the trust at all. Additionally, an estate may be contested if a beneficiary feels the executor is abusing their power or not handling the trust with care. The two most common reasons for estate litigation can be summarized as follows:
Division of Assets – when a loved one passes away, those who are named in the will are referred to as beneficiaries. These are the people that the decedent chose to leave his or her assets to. Disagreements between beneficiaries and how the estate has been divided, can quickly erupt.
Creditor Disputes – when a creditor requests to receive an amount of money that he or she claims the deceased owed. If it is approved, money will be paid to this party from the decedent's assets. If denied, the creditor would have to either give up or submit a petition to the court. If a petition is filed, it can result in estate litigation.
At Sweeney Legal, we can go into further detail about your concerns over the loved one's estate. We have been dedicated to helping clients seek that their loved one's wishes are carried out as desired. The process of estate litigation can get heated, and very complicated. We can offer legal presentation, strategy, advice and support during this very sensitive time.
Estate Planning Mistakes to Avoid
Although the last thing we like to think about is our own mortality, the truth is we will all die someday. This inevitability means that we should all address the importance of having an estate plan set up. As an estate planning attorney can explain, dying without an estate plan can cause all kinds of legal issues for those we leave behind.
However, it is also important to avoid some common mistakes people make, especially when they either try to do their estate plans themselves or they retain the services of an inexperienced Ridgefield, CT attorney. The following are some of the most common errors we see at our firm:
No Estate Plan: The biggest mistake is not having an estate plan. In fact, statistics show that more than half of the adults in this country do not have a will or any other estate plan in place addressing what should happen to their assets when they die. They also fail to have tools in place that address other important issues, such as advanced medical directives or health care power of attorney.
Only Having a Will: Although a will is a very important part of an estate plan, it is not the only part. There are other tools that help complete a comprehensive estate plan, including revocable and irrevocable trusts, guardianship, and power of attorneys. An estate planning attorney can discuss all the appropriate tools that are available.
Choosing the Wrong Person as Executor: An executor is the person who is chosen to oversee the distribution of assets and property, as well as make sure all the estate's debts are paid. Many people choose a relative or close friend to take on this role. Even though choosing a family member may seem the best choice, it can cause issues in the future if there are heirs who raise issues about the will or other plans you have put in place. The best choice for an executor is not only someone who is trustworthy, but also someone who is completely neutral to the family squabbles that often arise when an estate is being probated.
Not Updating Your Estate Plan: Another issue to avoid can be almost as problematic as not having an estate plan in place and that is having an estate plan but failing to periodically review it. There are many life events that occur that cause many people to make changes to their estate plans. This is why an annual review with your estate planning attorney will ensure that your wishes as to what should happen when you die are always up-to-date. You should also make any needed changes to your plans if you marry, divorce, after the birth or adoption of a child, or any other life events.
An Estate Planning Attorney Ridgefield, CT Residents Turn to for Experience
Due to the frequent changes in laws and regulations that can affect inheritances, estate taxation, and other issues, hiring an attorney should be at the top of your priority list. By choosing an estate planning attorney from Sweeney Legal, you can get answers to your questions. If you have any concerns during the process, they can be addressed as well.
John Sweeney takes the effort to spend time with each of his clients in order to understand their needs. With an understanding of your long-term goals and desire to take care of your family, he can help you develop the estate plan that best works for you. Contact our office today to meet with an estate planning attorney Ridgefield, CT clients recommend.