A Will Lawyer Ridgefield, CT Families Trust Discusses Fraudulent Wills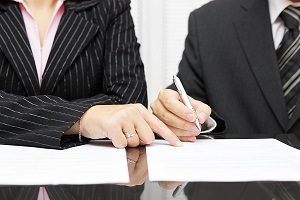 Every day, will lawyers hear terrible stories about how a client's loved one was taken advantage of by some unscrupulous person. A common scenario usually involves an elderly person who was being helped by a home health aide for a few years and then passes away. When their will is read, their family discovers that no one in the family is receiving any part of the person's estate as they had been told in the past. Instead, a new will was executed that leaves everything to the home health aide.
At Sweeney Legal, LLC, we are here to help you and your family should you find yourself victims of suspected will fraud. Contact our office today to meet with one of our
Ridgefield, CT will lawyers
and find out how we can help.
When Should You Contest a Will?
Any time you think that a will does not really reflect what your loved one's last wishes, you should contact an estate litigation attorney to contest the will. When you contest, you are requesting the court to declare the will invalid.
There are several reasons why a judge may declare a will invalid. One of those reasons is if the evidence shows that the decedent was unduly influenced by someone when the will was being executed. In the above scenario, a will lawyer would present evidence to the court that would show the type of influence or manipulation the home health care aide may have used to get the elderly person to change their will and leave all the assets to the aide instead of family members.
There may also be evidence that the decedent suffered from some type of condition that would have prohibited them from having the mental capacity to create the changes in the will, such as Alzheimer's disease or dementia.
The will can also be contested if it is suspected that it was forged and it was not signed by the decedent. The same rules apply if the will was altered in some way without the decedent's consent.
Another reason why a will can be declared invalid is if the decedent signed the will but did not know what the actual instructions were – in this scenario, distributing all assets to the healthcare aide and not family members.
A will lawyer in Ridgefield, CT will carefully evaluate your case and gather all pertinent evidence and witness testimony to determine what grounds will apply in your situation.
How Do I Contest a Will?
In order to be successful at contesting a will, you need a skilled and experienced will lawyer. If you believe that your loved one's will does not reflect their last wishes, the legal team at
Sweeney Legal, LLC
can help you determine if the will is able to be contested and on what grounds. We will then work diligently to get you the best outcome based on the circumstances of your case.
Call our firm today to set up a free and confidential case evaluation with a will lawyer Ridgefield, CT clients recommend and find out how we can help.