A Trust Lawyer Danbury, CT Discusses Importance of Estate Planning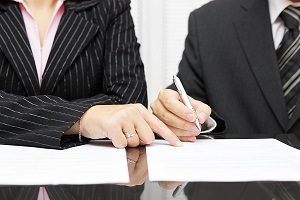 Talking to your parents about a subject as sensitive as estate planning can be like walking on eggshells. Many times, serious discussions never take place in a family, to begin with and bringing up the fact that they are getting older and it's time to prepare for the inevitable can be painful for all involved. However, the alternative is not talking to your parents at all and this can result in the scrambling to find bank accounts, insurance policies, investment information, a will causing a lot of unnecessary stress in a time where emotions are already high.
The law firm of Sweeney Legal, LLC specializes in estate planning and can provide your family with the necessary documents, help you gather all the important papers and accounts and counsel you all in the advantages of having a well-planned estate.
No one wants to face their own mortality – sometimes parents or even adult children may feel like they are acting greedy by bringing up the issue. Older parents may not want to talk about it at all. Parents may fear aging and facing what may happen if they become incapacitated and/or require long-term care in an assisted living facility. Talking about this, along with how the family will financially handle these possibilities, can be uncomfortable at best.
A Danbury, CT trust lawyer can start those conversations with your parents and siblings, presenting the information in a factual, non-threatening manner. There are several important items that the firm will address with your family:
Having a will and/or trust is critical if the parents want input in how their estate is divided. Questions to be addressed include will the estate be divided equally among all the children, is there a provision for any pets, are there any bequests to charities or friends, are there any specific items (jewelry, furniture, vehicles, etc.) that you want to bequest to certain individuals, have any of your children taken loans from you and how do you want them repaid, and is the family home to be sold?
Life insurance policies, annuities, investments such as IRAs or other retirement accounts should have beneficiaries listed on these items and they should be current. There should also be a secondary beneficiary.
In the event your parent becomes incapacitated, a durable power of attorney (DPA) goes a step further than what is permitted with a revocable trust and allows the designated agent to file taxes on behalf of the parent, deal with insurance and credit card companies, withdraw funds from their IRA or other retirement accounts, make deposits, etc.
A living will or advance health care directive (AHCD) allows your parent to choose an agent or agents to act on their behalf when making health care decisions when the parent cannot. It is a legal document that lists the parent's wishes in regard to medical intervention near their end of life. Decisions regarding blood transfusions, resuscitations methods (intubation), chemotherapy, etc. Their wishes concerning organ donations can be addressed in the directive.
It is important to know where to find everything. A trust lawyer in Danbury, CT will organize all the estate information for your family.
Call a Trust Lawyer Danbury, CT Clients Recommend
Talking about one's mortality can be one of the most awkward and difficult conversations you will have with your parents. Contact the law firm of Sweeney Legal, LLC and we can help get that conversation started.