Nursing Home Lawyer Ridgefield, CT Trusts Discusses Overmedicating Patients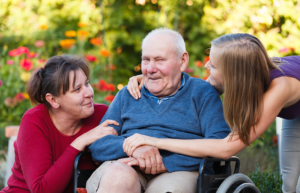 Families hope that when they place their loved one in a nursing home, he or she will be treated with the dignity and respect they deserve, as well as receive the care they need. Many nursing homes do provide a wonderful environment for their patients to live out their remaining years. Tragically, however, there are far too many facilities who do not take care of their patients.
At Sweeney Legal, LLC, we have made it our mission to fight for victims and their families, protecting their rights and getting the justice they deserve. Our
nursing home lawyers
have been advocating for victims for more than 20  years and obtaining the financial compensation they deserve for the injuries they suffered.
One of the more dangerous situations our firm is seeing more and more of these days is the use of unnecessary and dangerous antipsychotic drugs used on nursing home patients as a way to keep them quiet. Studies reveal that there could be as many as one in five patients being given these drugs, even though there is no physical reason to do so.
Antipsychotic drugs are meant for individuals who suffer from severe mental illness, such as schizophrenia or bipolar disorder. These drugs are so powerful that they carry a black-box warning by the Food and Drug Administration (FDA) – the most serious warning that agency issues. The warning states that these medications are not to be given to older patients or those who suffer from dementia or Alzheimer's. Side effects can include agitation, anxiety, confusion, and disorientation. These drugs have also been known to cause fatal reactions.
Despite these warnings and known dangers to the elderly, many nursing homes continue to give them to their elderly patients, often citing behavioral issues with the patient as a way to justify the use of the drug. Compounding the issue is that the drug manufacturers often market these drugs directly to nursing homes as a way to "quiet" patients.
State law requires doctors to provide information regarding any drugs they are giving a patient so that patient can give informed consent. If the patient is no longer able to give that consent, it must come from a family member who has been chosen to make those decisions. Families should make sure they know every medication their loved one is receiving and the reasons why it is being prescribed. If you have discovered that the facility your loved one is in has been giving them any of these dangerous drugs, demand they stop immediately and contact our office right away.
Contact a Nursing Home Lawyer in Ridgefield CT
Abuse of the elderly is against the law and needs to be treated as such. If your loved one has been a victim of neglect or abuse – or you suspect they are – contact
Sweeney Legal, LLC
to find out how we can help. Our nursing home lawyer Ridgefield CT clients recommend will assist your family in reporting the abuse to the proper federal and state agencies, as well as pursue compensation for the damages your loved one has suffered. Call our office today for a free and confidential consultation.