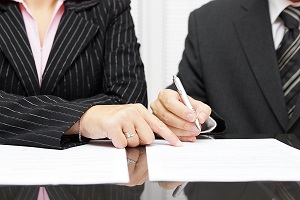 Estate Management Lawyer Fairfield County, CT
Consider this: over half of all Americans adults do not have a legally enforceable will in place. Given the critical importance of managing one's estate, end-of-life wishes and other unique estate-related needs, this statistic is difficult to process. The team at Sweeney Legal, LLC understands that creating an estate plan can be a challenge for anyone, but this should not derail you from creating an enforceable plan that will ensure your wishes are accurately reflected and ultimately respected. And although creating an estate plan is incredibly important, but we understand that you may not know where to start. Thankfully, a Fairfield County, CT estate planning lawyer can guide you through every step of the estate management process.

What Exactly is a Will?

A will is a legally binding document that usually outlines your assets and where they are to go after you pass on. This estate planning tool is the foundation of an estate plan and it can only be created and modified by you during your lifetime. An experienced Fairfield County, CT estate management lawyer can help to explain what kinds of property may be managed through the creation of a will.

What is a Living Will?

A living will is also known as an advanced medical directive or a power of medical attorney. This is something you and your Fairfield County, CT estate management lawyer will create in order to communicate your medical wishes to your doctors in the event you become medically incapacitated, but are still alive. For example, your living will may detail what you would like to happen in case you are in a position to be placed on a feeding tube or an incubator, are in a coma, and after what circumstances you can be entered into hospice care. This is a very personal document, but our team can help you navigate its creation.

What is Power of Attorney?

A power of attorney names someone who may be placed in charge of your finances and/or medical decisions not covered by the terms of a living will while you are still alive. This person can pay bills, write checks, and handle your bank accounts once you have been incapacitated.

What is an Executor?

An executor is the person in charge of managing your estate once you pass on. They are the person that will execute the terms of your will, pay of any creditors, and allocate your assets to the beneficiaries as previously planned. If you are unsure of who to name as an executor, a Fairfield County, CT estate management lawyer can help you make an informed decision.

What is a Beneficiary?

Your beneficiaries are simply the people who will receive your assets as outlined in your estate plan. Beneficiaries cannot decide amongst themselves who gets what, rather they are listed along with the assets they are to receive very specifically in your estate plan.

Why is it Important to Have an Estate Plan?

If you die without a will, your estate will be handled by your state. This means that a judge will make decisions about your assets and beneficiaries in ways that do not necessarily reflect your wishes and preferences. Additionally, going through the process of probate is expensive and related costs are taken out of your estate.

If you have any questions about estate planning or how to get started, please do not hesitate to contact an experienced Fairfield County, Connecticut estate management lawyer. Our firm is here to help ease you through this process as efficiently and effectively as possible, and to ensure you have peace of mind going forward.