Business Lawyer in Easton, CT
A Business Lawyer For You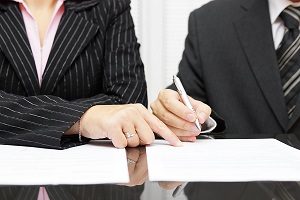 At Sweeney Legal, our trusted business lawyer in Easton, CT is trusted by companies of all sizes. If you are looking for the right business lawyer, call Sweeney Legal. We can provide you with guidance and advice throughout the initial development and operation of your business. Call an Easton, Connecticut business lawyer now for an initial consultation. 
The Basics of Business Law
Business law is complex and covers many cross-areas of the legal field. There are two primary subcategories of business law: commercial entities and commercial transactions. Commercial entities relate to the regulations that govern the formation of a business and how it must legally operate. Commercial transactions are related to the interactions between businesses, clients, and third parties. Commercial entity laws tend to help businesses establish their business structure, create a partnership, file bankruptcy, and more. Commercial transaction law usually covers contracts and litigation. 
What a Business Lawyer Can Do for You
Creation of a Business – Business lawyers are well versed in business formation. This involves a large amount of paperwork, and many steps that must be done just so to avoid delays, setbacks, or future problems. When you ask a business lawyer in Easton, CT to help you, he or she will not make your decisions, but rather provide you with advice on how to proceed. It is up to you at the end of the day to make the right decisions. 
Employment – There are various federal and state regulations in place to ensure employees are treated properly. There are different rules depending on the type of employee and their job description. For example, different employees are guaranteed varying pay rates, benefits, taxes, break times, and so forth. There are also very strict rules that you, the employer, must follow. A business lawyer can help you with this. 
Contract – Most business owners will deal with contracts at some point or another. A contract could involve an interaction with a supplier, consumer, client, or employee. Regardless of what your needs might be, a business lawyer in Easton, CT can draft, review, and negotiate your contract requirements. 
Taxes and Bankruptcy – A business lawyer may need to help you with various financial-related issues. For example, you will need to report your earnings and pay taxes. In the event you encounter financial issues, a business lawyer can review your situation and help you to understand your legal options. Filing for bankruptcy may be one of these options, and if it is, you can feel peace of mind in knowing that your interests will be in good hands. 
Intellectual Property – Copyright, trademarks, and other forms of intellectual property can help a business to protect their ideas and creations. If you have created a slogan, logo, invention, or anything else, a business lawyer should be consulted. 
Selling Goods – Depending on what you are selling, there may be strict regulations that govern how you should sell your items. It is prudent you understand whether this is applicable before you launch your business.
If you would like to learn more about how a business lawyer in Easton, CT can help you, call Sweeney Legal. 
Client Review

"John has handled multiple business issues for me with great results. He also wrote Wills for my friends. In addition to being a good lawyer and knowledgeable businessman, John cares about people and is compassionate and empathetic. He is fast, efficient, and reasonably priced. I'd recommend him for any Estate, Will, Elder or business issue."
Dina M.