Business Lawyer in Easton, CT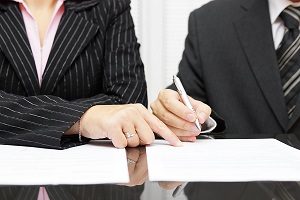 At Sweeney Legal, our trusted business lawyer in Easton, CT is trusted by companies of all sizes. If you are looking for the right business lawyer, call Sweeney Legal. We can provide you with guidance and advice throughout the initial development and operation of your business. Call a business lawyer now for an initial consultation. 

The Basics of Business Law

Business law is complex and covers many cross-areas of the legal field. There are two primary subcategories of business law: commercial entities and commercial transactions. Commercial entities relate to the regulations that govern the formation of a business and how it must legally operate. Commercial transactions are related to the interactions between businesses, clients, and third parties. Commercial entity laws tend to help businesses establish their business structure, create a partnership, file bankruptcy, and more. Commercial transaction law usually covers contracts and litigation.
What a Business Lawyer Can Do for You:

Creation of a Business

Business lawyers are well versed in business formation. This involves a large amount of paperwork, and many steps that must be done just so to avoid delays, setbacks, or future problems. When you ask a business lawyer to help you, he or she will not make your decisions, but rather provide you with advice on how to proceed. It is up to you at the end of the day to make the right decisions. 

Employment

There are various federal and state regulations in place to ensure employees are treated properly. There are different rules depending on the type of employee and their job description. For example, different employees are guaranteed varying pay rates, benefits, taxes, break times, and so forth. There are also very strict rules that you, the employer, must follow. A business lawyer can help you with this. 

Contract

Most business owners will deal with contracts at some point or another. A contract could involve an interaction with a supplier, consumer, client, or employee. Regardless of what your needs might be, a business lawyer in Easton, Conneticut can draft, review, and negotiate your contract requirements. 

Taxes and Bankruptcy

A business lawyer may need to help you with various financial-related issues. For example, you will need to report your earnings and pay taxes. In the event you encounter financial issues, a business lawyer can review your situation and help you to understand your legal options. Filing for bankruptcy may be one of these options, and if it is, you can feel peace of mind in knowing that your interests will be in good hands.
Intellectual Property

Copyright, trademarks, and other forms of intellectual property can help a business to protect their ideas and creations. If you have created a slogan, logo, invention, or anything else, a business lawyer should be consulted. 

Selling Goods

Depending on what you are selling, there may be strict regulations that govern how you should sell your items. It is prudent you understand whether this is applicable before you launch your business.

Signs You Need a Business Lawyer

Let's say you already have your business up and running and everything is going well so far. You may be wondering in what situations you should reach out to a business lawyer for further assistance. One of the main reasons people call a business lawyer is when a dispute or legal issue arises that could be detrimental to the company. To protect your business, it is imperative that you take action quickly if any of the following comes up:
Your Business Interests Are Vulnerable

As a business owner, we understand that your priority lies with protecting business assets. If a legal or contractual dispute threatens your assets within the business, it's probably time to consult with an experienced business lawyer. We can assess the issue and determine the best course of action, and how to avoid further harm to your company. For us to help you to the fullest extent, it is important that you are transparent abot what is happening. We are on your side and need all the details you can give us. 
Your Business Has Rapidly Grown

A rapidly successful business is an exciting business. However, what comes along with success are potential risks. Businesses often begin with partners that are still new and optimistic about the future. As a result, a contract that once worked may not any longer, and a disagreement between partners can erupt. If this disagreement cannot be worked through and is hindering the further growth of the company, then seeking out a reputable business lawyer is recommended.
You Are Unsure About Litigation

There may be situations where you don't know whether litigation is needed. A lawyer can assess what is going on and help you understand the severity and what options you have in finding a solution. Hiring a lawyer to handle such a circumstance can save you money, time, and headaches that come along with an escalating situation. 

Call Sweeney Legal Today
Every business owner strives to avoid legal issues and other problems that could impact the success of their company. You may be surprised that hiring a lawyer familiar with business legalities actually helps you get out of a rut and provides solutions you may not have thought of before. At the very least, we can support you as we come up with a strategy so that a peaceful solution is found. With our assistance, you can take a heavy weight off your shoulders. We know the law, and are ready to jump right in and offer guidance. If you would like to learn more about how a CT business lawyer in Easton can help you, call Sweeney Legal.
Client Review

"John has handled multiple business issues for me with great results. He also wrote Wills for my friends. In addition to being a good lawyer and knowledgeable businessman, John cares about people and is compassionate and empathetic. He is fast, efficient, and reasonably priced. I'd recommend him for any Estate, Will, Elder or business issue."
Dina M.