Business Lawyer Bethel, CT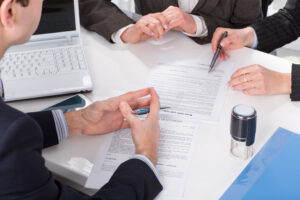 If you've just started your own business, it is important to have a business lawyer in Bethel, CT on your side. He or she can guide you through legal issues you may face and answer all of your questions. Here are some tips for hiring the right business lawyer.
Ask Other Business Owners for Recommendations
Do you know other business owners? If so, don't hesitate to ask them who they go to for legal assistance. After all, it doesn't get much better than getting testimonials from people you actually know and trust. Ask these business owners what services the business lawyer provided for them and if they would use that lawyer again.
Consult With the Lawyer You'll Actually Work With
If you plan on using a business lawyer on an ongoing basis, it's important to establish a good relationship with this professional. That's why it's important to speak to the lawyer you'll actually be working with. Sometimes a partner at a large law firm may speak to you during the initial consultation and then pass on your case to an associate. You don't want this. Make sure to specify that you want to consult with the lawyer you will be working with.
Don't Be Afraid to Ask Questions
When you go in for your first consultation with a business lawyer, you should bring a list of questions you want to ask. Asking the right questions will help you determine if a lawyer is the right fit or not. For example, you may want to ask the lawyer if he or she has experience helping clients in similar industries as you and what type of business structure you should select.
Pay Attention to How a Lawyer Communicates With You
It is not enough for a business lawyer in Bethel, CT to be experienced and knowledgeable. He or she also needs to be genuinely interested in helping your business with legal matters. During your initial consultation, pay close attention to how a lawyer communicates with you. Does the lawyer make frequent eye contact and ask a lot of questions about your company? Or does he or she just seem to be going through the motions? If it's the latter, you may want to find a different lawyer.
If you need legal assistance for your business, you should schedule a consultation with a business lawyer in Bethel, CT at Sweeney Legal, LLC today.