Estate Planning for Families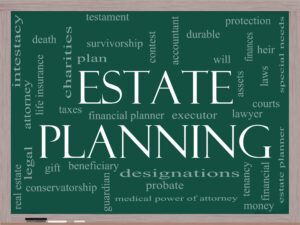 Who needs a will?  In short, everyone. Many people have the best of intentions of drafting a will, but it is very easy to put off drafting a will until tomorrow.  Tomorrow becomes next week, which becomes next month, which becomes next year.  A proper estate plan is essential for families, particularly for parents with minor children.   A will is not the only document necessary.  A short summary of documents necessary for most families is below.  Please note that there is no one size fits all document.  It's encouraged to contact an estate planning law firm, like our friends at the McCarthy Law Office, to meet your individual needs. 
Last Will And Testament 
A will directs the distribution of probate assets upon death.  A will also identifies who you want to serve as the executor of the estate.  Parents also can identify who they want to serve as guardians of their minor children if something happens to both parents.  This is probably the most important reason for parents with young children to execute a will.  
The probate court will ultimately appoint a guardian for children if both parents pass away, but parents should clearly identify who they want to care for their children in the event a guardian becomes necessary.
Revocable Living Trust 
A living trust is a very useful device to manage property.  Trusts can be intimidating. But the basics are not complicated.  In a trust, the owner (grantor) transfers property to a trustee.  The trustee manages the property for someone identified as a beneficiary. 
Property placed into a revocable trust is generally not subject to the probate process.  Parents can also instruct that assets be distributed to their kids at staggered times. Under the Uniform Transfers to Minors Act, children can receive assets once they reach age 21.  But in a trust, a parent can pass part of their assets once the children obtain specific ages, such as 1/3 at age 21, 1/3 at age 25, and the remainder at age 30.  But trusts are also very flexible and can be drafted to suit your needs and wishes.  
Living Will And Health Care Power Of Attorney 
A living will allows the signer to state their intentions regarding withholding or withdrawal of life-sustaining medical treatment, including CPR, when they are no longer competent to make informed medical decisions.  A living will becomes the way a person communicates their wishes when the patient is in a terminal condition and can no longer make informed decisions.
The health care power of attorney designates an attorney in fact to make health care decisions when the patient is unable to communicate his or her wishes.  The attorney in fact generally has the authority to give informed consent, refuse to give informed consent, and to withdraw informed consent for any medical treatment.
Durable Power Of Attorney
This document is intended to cover your financial matters in the event you cannot handle them yourself.  A durable power of attorney helps the management of a person's affairs during periods of incompetence without the necessity of seeking an order from the Probate Court.