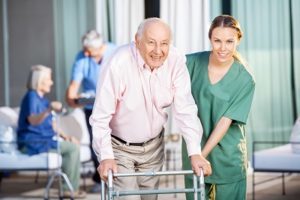 In the United States, there are too many unfortunate events that involve the mistreatment, neglect, or abuse of elders. Abuse and neglect may manifest physically, mentally, emotionally, financially, or by a combination of these approaches. According to federal authorities, approximately one-third of operational nursing homes have been issued a citation for abuse infractions or violations. When loved ones suspect that an elderly resident of a nursing home is not being properly cared for, it is important to consult a Danbury, CT elder care lawyer about potential legal options. Failure to address warning signs can result in catastrophic consequences.
The root causes of nursing home abuse often include understaffed facilities, poorly trained workers, negligent hiring and corporate structures in which profit is more important than the residents. Sadly, lack of awareness and legal knowledgeable can create a situation in which the elder and their family members neither seek nor receive any justice. An elderly person who is being abused or neglected in any way has the right to pursue legal action. However, the cause of the abuse or neglect, and who is responsible are often somewhat clear. These types of cases are complex and usually require a thorough investigation by a nursing home lawyer. Speaking with a Danbury, CT elder care lawyer employed by Sweeney Legal, LLC may help to provide your family with much needed clarity about your loved one's situation.
The Importance of Nursing Home Lawyer
When you meet with a Danbury, CT elder care lawyer, you will explore the specifics of your loved one's situation. In turn, your attorney will help you to evaluate your legal options. Should you choose to pursue a personal injury suit, your case will generally need to meet three broad legal requirements:
There was a legal contract that binds the nursing home facility to a duty of care for the victim.
The nursing home did not adhere to this duty of care either through an intentional act, act of omission, or negligence.
The abuse or neglect is a proximate or direct result of the above, and this is the reason why legal action is being pursued.
When You Believe Abuse or Neglect Has Occurred in an Elder Care Facility, You Should Have a Nursing Home Lawyer on Your Side
In order to ensure your rights are protected and that you receive maximum damages, you should retain a Danbury, CT elder care lawyer who has experience in handling nursing home abuse cases specifically. Failure to do so could result in lost time, lost resources and lost legal opportunities. Remember, the nursing home will almost certainly have a strong legal team defending against any allegations; a Danbury, Connecticut elder care lawyer should know what to expect and how to deal with their approach.
Client Review

"I hired John to review a fairly complex matter related to my business. He demonstrated a clear understanding of the issues and helped me quickly navigate through the situation. He's smart, efficient and a pleasure to work with."
Joel C.